Whether you are a technophile or technophobe, social media is an inescapable fact of life.
Like e-mail in the '90s and the web at the dawn of the new millennium, artists and organizations—as a matter of business—have had to adapt to these new modes of communication and integrate these tools into their operations. Web 2.0 and social platforms like Digg and Delicious, YouTube, Flickr, and Facebook have pushed the electronic envelope even further up the learning curve. Along comes Twitter, and the real-time revolution is on—just as mobile technologies have gone viral. The speed of new development presents challenges—for technologists and luddites alike. But whether you're a traditionalist or a 'new mediaist,' [1] future audiences are growing up with these technologies, [2] and eventually, the arts, like every living thing, must adapt or die.
Social media is where the jobs will be. Jaki Levy, a technology consultant to non-profits including performing arts organizations, says that positions like Social Media Manager and On Line Community Manager are, indeed, the jobs being created in the field today.
New jobs mean new roles and new responsibilities. "Five years ago you needed to know how to use Excel and mail merger. Now, you need to know how to use Facebook, Twitter, and HTML-email like Constant Contact. The job of marketing has grown beyond just getting the word out; there's an expectation of direct engagement with the audience."
"Managing communities is much more complex than traditional outreach," Levy added. "Participation, collaboration, and customization are all expected parts of the social media experience. Reviews in the press may be important to donors and some presenters; blogs and more personal feedback are much more important to the community of friends, fans, and family."
Keeping track of all the important discussions and news and other relevant audience engagement—disseminated via channels like Facebook, Twitter, YouTube, Vimeo, and myriad others—requires more than just technical and social skills. It takes a curator.
WHAT IS REAL-TIME CURATION?
Real-time curation, currently the buzz word at the intersection of old and new media, adds an editorial function to the aggregation process—and adds multiple layers of real-time sourcing to the mix, drawing on Twitter, Facebook, Foursquare, Flickr, YouTube, CinchCast, and other 'always-on' apps.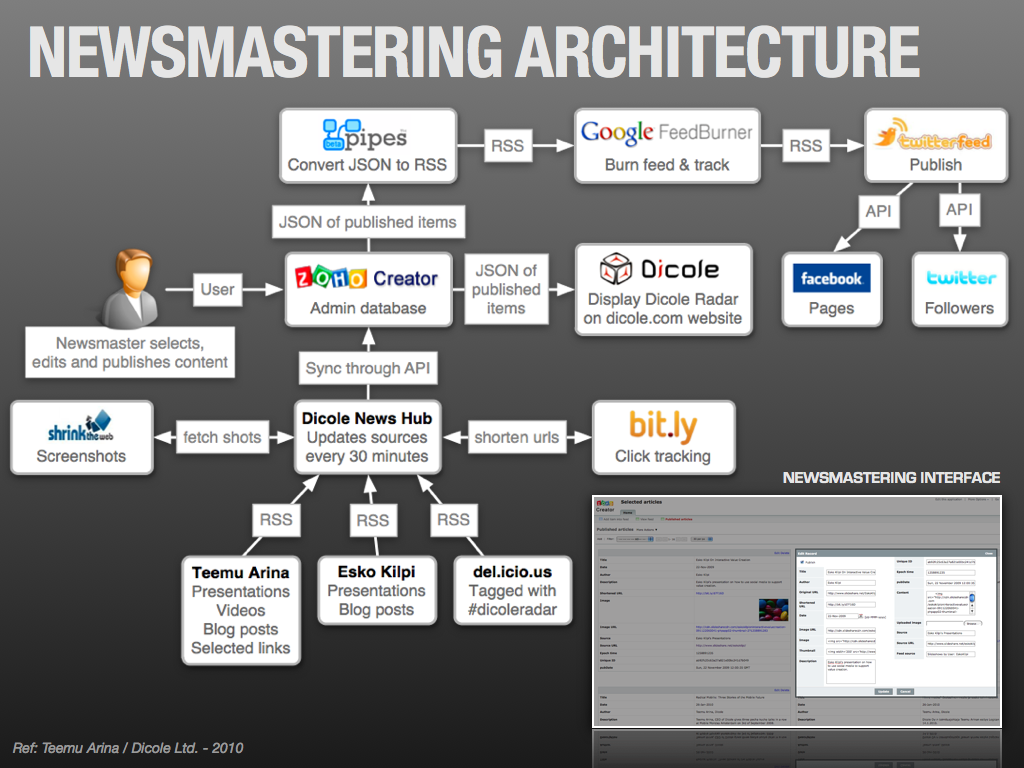 Real-time curation means being able to tell someone about something while it is happening and see other posts related to the same topic, but also to collect, save, and display posts that would otherwise be lost in the ongoing stream.
You can Retweet, favorite, or copy urls, but it's not the same. Real-time curation lets you save tweets, Facebook posts, etc., and update the collection as the story changes.
REAL-TIME CURATION TOOLS
Curated.by
lets you capture tweets around a specific topic using a plug-in that's installed on your Twitter.com profile. You can then tag and sort tweets into bundles, which can then be embedded in a blog post for some additional context to whatever you're reporting on.
Storify
goes beyond tweets by letting you insert content from YouTube, Flickr, Google search and more into "stories," which can be embedded into a Web page.
Keepstream
gathers content from Facebook likes and Twitter retweets and let users build "collections" of social media content. Users control the presentation of their content, add commentary, and can embed their collections on a website or blog.
Sounds complex; is there a plugin for that?
ShareThis recently released the
Trending Content Widget
, a new social curation plugin/widget described as a lightweight version of
ShareThis stream
, launched earlier this year. The Trending Content Widget is designed to increase reader engagement and generate traffic to the host site.

Here's how it works:
Customization: You can set the Trending Content Widget to only show articles on the same topics as what's covered by your site, or only other articles FROM your site.
Integration: Readers can see what their friends are sharing on Facebook, Twitter or Google Buzz through the widget, and share or "Like" the content on any of these services as well. This means more sharing, which means more traffic.
Discovery: Customize the widget to show top trending content from your domain or popular topics.
The widget makes it easy for users to see what their friends are reading and talking about, and share information with each other on their favorite topics without ever having to leave your site.
Real-Time News Curation — The Complete Guide Part 5: Curator Attributes & Skills [3]
While technology plays an important role in helping a curator locate, aggregate, filter, curate, and re-publish existing content, it is the expertise and skills of the curator that allows them to create meaning, make sense of disparate info, and add value to a newly created whole.

What makes a successful newsmaster is not the ability to maneveur freely with RSS feeds, aggregators, and PHP includes, or having access to the latest content curation technology, but rather the level of passion and depth of interest for a specific subject matter, and the harmonious and coordinated application of a rare and multidisciplinary skill set.

Key Attributes - Qualities of a Real-Time News Curator

1) Subject Matter Expertise

It is nearly impossible to become a valid curator for others unless you are deeply passionate about something. Experience and familiarity with a specific topic, makes it much easier to rapidly identify sources and influencers, to understand industry jargon, and to be well informed on the subject industry expectations, fears, and emerging trends.

2) Relevance

Relevance, is the result of subject matter expertise coupled with a very good understanding of the audience one is trying to serve. Only by knowing, or rather, by selecting a priori, a very specific audience interest, problem or need, the news curator can then proceed to source, aggregate, pick and select the most relevant stories to satisfy it.

3) Trust

Trust is a result of subject matter expertise and consistent, repeated relevance. If you are knowledgeable, and repeatedly provide valuable news stories, links, resources, and other forms of engagement, you gain trust.

Curator – Newsmaster New Skills To Be Learned

1) Online Re-Search Skills

a) Resource Identification

Searching and identifying key reliable sources of news.

b) Online Search

Creating advanced search queries in major web content domains (news, real-time, blogs, directories, etc). Being familiar with Boolean operators. Knowing how to create persistent searches. Having familiarity with filtering variables available inside search engines. Familiarity with the use of exclusion filters based on keywords, keyphrases, date, language, and more. Query formulation at different levels and on different content bases.

2) New Media Literacy Skills

a) Crap detection

Detecting and recognizing accurate, valuable information from crap, spam, misinformation, disinformation, scams, artificially created content, political and business propaganda, and paid-for editorial promotions.

b) Online Collaboration

Making oneself acquainted and fluent in the use of real-time collaboration tools such as Skype, Google Docs, screen-sharing, and mind mapping tools. Developing a growing network of personal sources and contributors that can help improve the quality and coverage of a curated channel as well as its distribution and visibility.

3) Communication Skills

a) Copywriting

Writing quality text, storytelling, reporting, reviewing, interviewing. Knowing how to write to explain and illustrate. Developing a rich and qualified vocabulary within the subject matter field.

b) Presentation

Presenting information in the most effective, legible and understandable way. Having some familiarity with basic design, layout, presentation and information design aspects can help a great deal in going beyond the disorganized and unformatted approach that most blog-based curators have.

c) Visualization

Communicating stories and news by leveraging visual communication solutions. The ability to organize, present and communicate messages effectively through visual communication means.

d) Listening

Having active open ears on multiple social platforms, blogs and news channels. Listening and reacting to comments, suggestions and feedback from readers. Treasuring insights from others. Ability to understand further what kind of more specific information your community trusts and loves receiving from you.

e) Marketing Communication

Knowing in depth, the audience and profile of the community of interest being served. Adapting, customizing and tailoring messages, language and vocabulary to suit as much as possible the one of those to whom this information is being provided to.

f) Being unique

Having a personal, unique editorial "voice" and character. Selecting only exclusive, high quality, high-value content. Going for a specific niche and a precise audience interest.

4) Editorial Skills

a) Selecting

Choosing individual news stories for curation. Having precise criteria for deciding what to include and what not. Refining those criteria on an ongoing basis. Having the ability to select on the basis of quality and relevance to the community and topic-niche being served.

b) Contextualizing

Helping readers understand the value of a news story or collection relative to their specific interest. This can be achieved by providing context to news, streams, collections or bundles in the form of background information. Context can also be enhanced by organizing, juxtaposing, categorizing, tagging, and by covering other complementary stories and viewpoints.

c) Referencing

Extending the opportunity for more exploration and sense making by providing explanatory links for new and technical terms, which may not be easily understood. The same applies to people, places, technologies and events, which may not be immediately familiar to the reader.

d) Crediting

Attributing due credit to all sources, references, authors and contributors utilized in creating a curated news radar, stream, bundle or collection. The more precise and accurate crediting the more value gets created and the more credibility you bring to your work.

e) Summarizing

Shortening long stories. Synthesizing. Creating lists. Explaining to others in a few words what has taken others a lot of pages to be communicated.

f) Updating

Keeping the curated content always "current" and up-to-date.

5) Semantic Skills

a) Organization and Classification

Ordering news stories into relevant categories and applying keyword tags to facilitate findability and re-use. Adding relevant or missing metadata when needed. These are typical information-librarian skills and they do contribute to provide additional value to the simple republication of interesting stories on a topic.

b) Pattern Recognition

Spotting and recognizing information patterns leading to the breaking of important stories, trends and emerging new issues.

c) Sense-Making

Analyzing, reading and reviewing information before publishing in order to extract and identify the key value and relevance for a specific audience.

d) SEO

Understanding the value of long-tail keyword research and content niches for search engine optimization. Having familiarity with keyword analysis tools like the Google Keyword Analysis tool and similar ones.

6) Social Skills

a) Networking - Social

Building trusted relationships with thought-leaders, influencers and subject-matter experts. Reaching out to these people and providing value, help, support and extra visibility to them in order to gain some attention from them.

b) Engagement

Interacting and responding intelligently and constructively to audience requests, feedback and suggestions may very well be one of the most valuable traits of a quality new content curator, who by the nature of things, will have him / herself to increasingly rely on other more specialized sources to be able to stay on top of the universe of information she is curating.

7) Information Library Skills

a) Preservation - Archiving

Organizing, storing and preserving curated information streams, collections, bundles and news radars for future uses.

8) Technical Skills

a) RSS and Real-Time Technologies

Being familiar with search, aggregation, filtering, and content distribution tools and technologies. These would certainly include good familiarity with RSS readers and aggregators, Twitter reading and publishing technologies (such as Seesmic and Tweetdeck among others), social bookmarking and social monitoring tools, as well as some basic competence in HTML tags, the use of digital images, and traffic analytics tools.

b) Content Distribution

Setting up and configuring effective content distribution channels making your curated content available on multiple relevant social networks and other content distribution channels.
---
SOURCES AND RESOURCES
[2]
http://mashable.com/2010/10/07/toddlers-online-presence/
[3]
http://www.masternewmedia.org/real-time-news-curation-the-complete-guide-part-5-the-curator-attributes-and-skills/#ixzz12AkYQY78
The Seven Needs of Real-time Curators "
["Blogging is curation for Web 1.0"]
The Creative Plateau and Content Curation
["Content curation is big business and it's here to stay."]
Content Curation versus Content Aggregation
["Both aggregation & curation can be bad ideas unless there is a workable strategy in place.]
What do Apple, The Guggenheim, and Forbes have in common? Curation.
["The Internet is a newspaper, and it's hiring an editor."]
The Battle Between Real-Time Reporting and Curation
["Are we going to see a transformation of journalism?"]
Content curation: A required skill for digital-era communicators
["Curation is a subjective, hands-on task that requires skill and expertise."]
Cliqset adds real-time GoogleBuzz and goes mobile
["We've even included curation!"]