Mike Daisey was a self-described "worshipper in the cult of Mac." Then he saw some photos from a new iPhone, taken by workers at the factory where it was made. Mike wondered: Who makes all my crap? He traveled to China to find out.

Don't miss this excerpt of Daisey's show, "The Agony and Ecstasy of Steve Jobs," adapted for the radio on This American Life. What's particularly interesting is when Ira Glass interviews Daisey at the end of the segment and fact-checks the details of his story. Not surprisingly, Daisey pretty much gets it right.

Even if you follow the stories about the mega-factories in China, the rash of suicides last year at Foxconn, or Apple's recently released Supplier Responsibility Report, Daisey's gift for storytelling brings a new perspective to the situation. One of the most moving sections in his monologue is when he dispels the myth of the antiseptic and robotically controlled high tech factory:

When I leave the factory, as I can feel myself being rewritten from the inside out, the way I see everything is starting to change. I keep thinking, how often do we wish more things were handmade? Oh, we talk about that all the time, don't we? "I wish it was like the old days. I wish things had that human touch." But that's not true. There are more handmade things now than there have ever been in the history of the world.

Everything is handmade. I know. I have been there. I have seen the workers laying in parts thinner than human hair. One after another after another. Everything is handmade.
Click here to download or stream the entire episode from This American Life.

Related Links:

Who is the mystery 'iPhone Girl'? Pictures of an Asian factory worker on a new iPhone generate intrigue
By Min Lee, Associated Press,
8/27/2008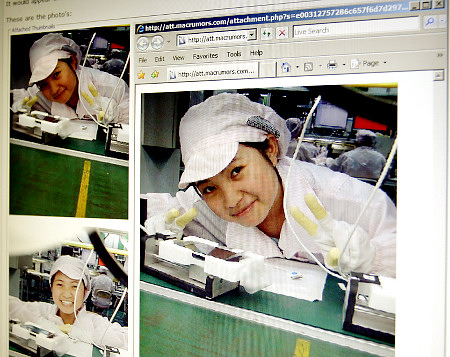 Photos From Inside the iPhone Factory
removethelabels.com, 7/28/2008




Intro photo: Apple